We think the Rhône Valley is the most exciting wine region in France; from the majesty of Hermitage in the north to the warmth and generosity of Châteauneuf-du-Pape in the south, there are wines to satisfy all tastes and we'd like to share them with you
The Tours
Unlike traditional tours, ours are flexible - a choice of five different day-long private tours covering both the classics and the undiscovered regions, with bespoke tours also available on request. You can do just one day of touring or as many as five, it's up to you.
We pick you up wherever you are staying and drop you off again at the end of your day's tour. And because the tour is planned just for you, with no big groups, you have the full attention of your English-speaking driver/guide and you can really get to talk to the winemakers (don't worry, we can translate). All you need do is relax, taste and have a good time.
Click here to find out more about our tours.
The Tastings
Uniquely, Rhône Wine Tours also offers "at home" wine tastings. And from as little as 12€ per person, they're an affordable treat for any wine lover.
Our tours are great – or so you tell us (and Tripadvisor!) – but the Rhône is big. Even we can't organise to be in Chateauneuf-du-Pape and Condrieu during the same day. So we came up with an answer that means you can taste the regions greatest wines without having to leave the comfort of your holiday home.
You provide the space - the living room in your gîte or holiday villa, even the poolside terrace - and we provide everything else from the presenter through to a selection of artisan cheeses and charcuterie, not forgetting, of course, a range of beautiful Rhône wines. We even clean up afterwards. How else can you taste so much great wine with so little effort?
The tastings are informative but fun and perfect for anybody who likes wine – there's no need to be an expert - but they're especially suitable if you've got kids in tow and don't want to drag them from vineyard to vineyard.
Click here for more information about our tastings.
5 Nights, All-Inclusive Wine Holiday – May and July 2014
After the storming success (though we say so ourselves) of the 2013 all-inclusive wine holiday, we've turned our thoughts to 2014's. In fact, we've decided to offer two! Just think, five nights all-inclusive holiday in the beautiful surroundings of the south of France…with wine!
Click here for more information about the all-inclusive holidays.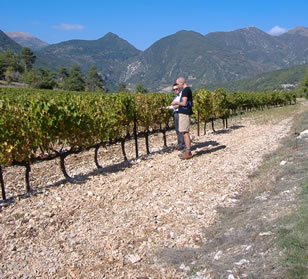 In the vineyards in late September
Pay with:

What YOU say about us…
"Spending the day with Paul was just like site seeing with a good friend with an exceptional knowledge of wines! …friendly, helpful and will certainly be contacting him again for our next Rhone wine trip."
"…once again, thank you for an incredibly enjoyable day. Needless to say, we will recommend you to our friends (many of whom are also into wine), and hope to fix up a Southern Rhone tour with you for ourselves in the not too distant future."