How to Get Here and Where to Stay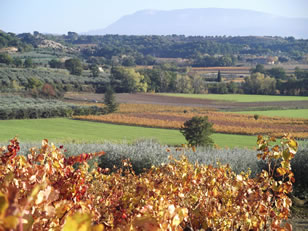 Late autumn colour In Mirabel
By Air
To get here by plane, the nearest large airports are in Lyon (Lyon-St Exupéry) and Marseilles. British travellers can also fly with Ryanair from Luton or Liverpool to Nîmes and with flybe from Birmingham and Southampton to Avignon. CityJet fly direct from London City airport to Avignon during the summer months. Car hire is available at all the French airports mentioned.
By Train
Brits may also want to consider the train. Eurostar run regular services directly from London St Pancras to Lyon and Avignon. Otherwise, take the Eurostar to Lille or Paris and then take the TGV train to either (or indeed the less frequently served, smaller stations at Valence, Montelimar or Orange) - bookings via RailEurope.
From London, the train is barely slower door-to-door than the plane and you have the advantage of it being easier to carry back your liquid purchases!
Mirabel-Aux-Baronnies
By Car
Finally, getting here by car from the UK is also straightforward. Take the ferry or the Shuttle across the Channel and then head south through Reims and Dijon and then on to Lyon. The A7 autoroute runs from Lyon to Avignon.
If driving, it's best to stop overnight part way through France. Depending on where you are coming from, we have found the most convenient places to stop lie in the stretch between Reims, Troyes and Dijon. Alistair Sawday's website and books list lots of nice independently-run places if you prefer to avoid the chain hotels.
Accommodation
Below is a list of hotels, B&Bs and self-catering accommodation in the Rhône valley that have been recommended by our clients.
For more accommodation in the region, Alistair Sawday's website would again be a good starting point, and the local tourist offices will be able to point you in the right direction.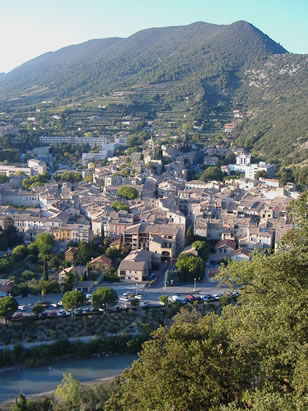 Nyons from the hills
Tours 1, 2 and 3
Many of our clients stay in Avignon and these are the three hotels that we get the best feedback on: Hotel l'Europe (expensive but beautiful); La Mirande and Hotel de l'Horloge. All are in the centre, within the old town walls. People have also given the A l'Ombre du Palais B&B excellent reviews. It, too, is very close to the Pope's palace.
A little further out, for those of you a bit more adventurous:
Une Autre Maison
A chic, Michelin-listed boutique hotel two minutes walk from the main square in Nyons with an outdoor pool and an enchanting garden and terrace where you can take dinner.
L'Hirondelle
L'Hirondelle: A family maison de village in Mirabel-aux-Baronnies, where there are all the necessary amenities – two bakers, two bars, an epicerie and a tabac. The house sleeps up to 7 and has a large private garden, perfect for an outdoor lunch or evening aperitif. This was where I stayed most often before I moved to the region. It has lots of character and feels like a proper home rather than a holiday home.
Les Beaux Terroirs
evasiontravel.co.uk/ardeche/gite-ardeche/les-beaux-terroirs
My friend Sam has four gîtes on the Ardèche/Gard side of the Rhône near the beautiful Cevennes hills. Very smart and with all mod-cons, including a pool. And he loves his wine.
La Capitelle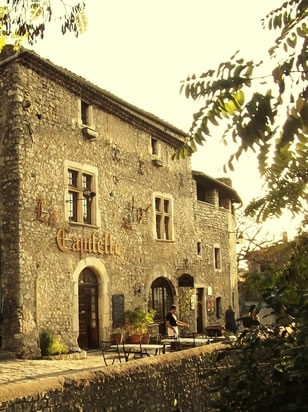 La Capitelle
Sylvain Croce, formerly the chef at Une Autre Maison (see above), has now taken over La Capitelle hotel and restaurant in the picture-postcard village of Mirmande. The food is fabulous. The village itself is listed as one of the most beautiful in France and the stone-built hotel certainly does it proud.
Mirmande isn't far from Valence and makes a great staging post for Tours 4 and 5, but the village is about as convenient as any one place can be if you want to tour the whole of the Rhône from a single base.
Le Clos des Pins
A magnificent villa surrounded by vineyards on the outskirts of Villedieu, not far from Vaison-la-Romaine. There are four big bedrooms, all with en suite bathrooms (bigger than many a hotel bedroom!), a large garden, a terrace and pool. English owners Steve and Alison are particularly keen to take bookings outside the high season and are happy to offer deals if you fancy pampering yourself.
They also have a B&B, La Saugie, in Sablet, right in the heart of wine country. There's a pool and garden there too. Go to www.lasaugie.com for more details.
Gîtes la Françonne
Dutch Juliette has three gîtes, each sleeping up to 4 people, on the edge of Mirabel village overlooking the vineyards. There's a nice sized shared pool.
Villa Magnolia Parc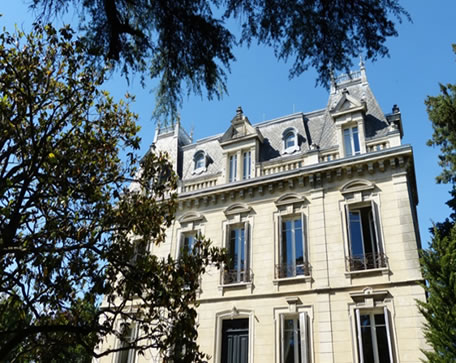 Villa Magnolia Parc
Daniel and Clasien, the Dutch owners, have spent a fortune restoring Villa Magnolia Parc to its former grandeur. If you have a desire to live in the manner of a French Viscomte, well here's the place to do it.
The Villa sits in its own grounds near parkland but only a few minutes' walk from the centre of Montélimar.
Montélimar isn't on the tourist map, but it has a pretty historic centre with lots of ornate old shop fronts. It's famous in France for the production of nougat. And while it doesn't have its own wine region, it is very handy for everyone else's. So while it would make an excellent starting point for Tours 4 and 5, tours 1-3 are equally possible.
Tours 4 and 5
The "Hidden Gems" tour heads off up the beautiful Drôme valley (the Drôme being one of the Rhône's main tributaries). Realistically, you need to be staying in the central Rhône valley, in the general area of Valence and Montélimar. So La Capitelle and Villa Magnolia Parc (see above) are good places to choose as your base.
We have also been lucky enough to host a wine tasting at a rather beautiful hotel called Château Les Oliviers des Salettes outside the village of Charols (www.chateau-lesoliviers.com) and from what we've seen of the hotel, the grounds and the suites that, too, would make a most agreeable hideaway from which to do tour 4.
Most people opting for "Great Wines of the North" stay in Lyon. It's not hard to see why - it's a great city that loves food and wine, there's loads going on and it has excellent transport links. If that's where you want to stay then our first recommendation would be to make sure that your accommodation has one of the following postal/zip codes - 69001, 69002 or 69005. That means you'll be in the centre (01 and 02), between the two rivers, or in old Lyon ("Vieux Lyon" - 05). You might be tempted to stay in one of the chain hotels (Mercure, Ibis etc) near Part Dieu train station but that is the business district and you will end up spending plenty of time and/or money travelling into the centre.
Clients have recommended the Carlton on Rue Jussieu, the Mercure Beaux Arts and Le Phénix, right on the river front in Vieux Lyon.
All other options for tour 5 are south of Lyon. You might consider the towns of Vienne, Tournon or winemaking centre Tain l'Hermitage (not exactly the most beautiful, this last one), but all the places listed for tour 4 would also make very good bases for tour 5