About Us
Rhône Wine Tours was started by me, Paul Barker, after many years working as a wine merchant in London. Like many people starting out in the wine trade, I began as a general dogsbody at Oddbins, before moving onward and upward to become one of the founding directors of Green and Blue. I later joined Theatre of Wine, one of the most highly respected independent wine merchants in London.
I fell in love with Rhône wines well before I made wine my profession. And once I started visiting the Rhône Valley, first for pleasure and later professionally, I soon fell for the region itself.
Over the years I've been lucky enough to meet many winemakers and visit many winemaking regions, from the most famous to the pretty obscure (here's to you Grand Mesa, Colorado!) and while I may adore their wines, the Rhône has always been closest to my heart.
I look forward to seeing you here,
Paul
What YOU say about us…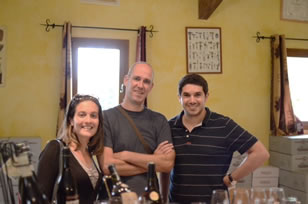 With happy customers.
Many thanks to them for the use of the photo.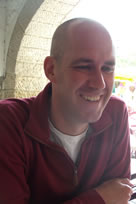 Paul, your guide
"We enjoyed every minute of this visit and found it hard to get ourselves to leave!"
"We both thoroughly enjoyed the day…we'll book another tour next time we visit"
"…very welcoming and informative. The wines were delicious."
"We will definitely book another tour with you and recommend your services to our friends."
"Very good value for money."
"Very good guide – friendly, informative, good company."