The Tours
Six carefully designed tours letting you experience all the Rhône has to offer.
Tour 1: The Big Reds of the South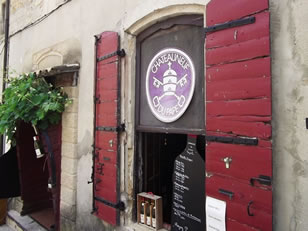 Châteauneuf-du-Pape village.
South of nougat capital Montelimar the climate becomes noticeably hotter, more Mediterranean. Olive trees and evergreen oak thrive. This is the French home of the sun-loving grenache grape. This is a land of rich, warm red wines that are full of spice and the scents of the local wild herbs.
This tour focuses on three famous full-bodied reds: Châteauneuf-du-Pape, from the vineyards surrounding the ruins of the Pope's former summer home near Avignon, and the wines of its near neighbours Gigondas and Vacqueyras, two villages nestling under the beautiful Dentelles de Montmirail hills. Grenache forms the backbone of all three "appellations" with individual winemakers deciding on the amount of fruity syrah, meaty mourvedre or supple cinsault they want to use to season the blend. Don't be surprised, however, if the winemakers want to show off their other wines, whites and rosés included.
Accommodation suggestion - If you want to do the "Big Reds" tour, we'd suggest that you stay in Avignon or one of the surrounding small towns or villages. Go to the Travel & Accommodation page for ideas.
Tour 2: The Cru Crew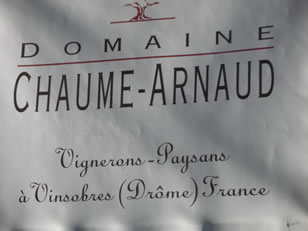 Vignerons-Paysans, "Winemakers - Peasants". It works better in French.
In French wine, "Cru" signifies a place or vineyard that's at the top of the tree, the best available. In the southern Rhône, Châteauneuf-du-Pape is the most famous cru, but there are a handful of other smaller local wine regions that have been recognised with the same status.
Rasteau, Vinsobres and Beaumes de Venise produce contrasting reds and have the added distinction of having their own specialities: Beaumes de Venise makes reds full of spicy black fruit, but is even better known for its orange-flower scented, heady, sweet muscats, delicious with fruit tarts; Rasteau, as well as producing some of the most powerful reds around, is the only village in the Rhône valley to make a sweet "vin doux" from grenache (amazing with dark chocolate), while Vinsobres' slightly cooler climate, influenced by the first foothills of the Alps, gives its reds style and finesse and allows it to produce some of the finest dry whites in the southern Rhône. Meanwhile, for lovers of rosé, there is the option of tasting France's most famous - the powerful, dry wine of Tavel. There is truly something here for everybody.
Accommodation suggestion - As with the "Big Reds" tour, it's advisable to stay in or around Avignon if you want to do the "Cru Crew" tour. See Travel & Accommodation.
Tour 3: Doin' What Comes Naturally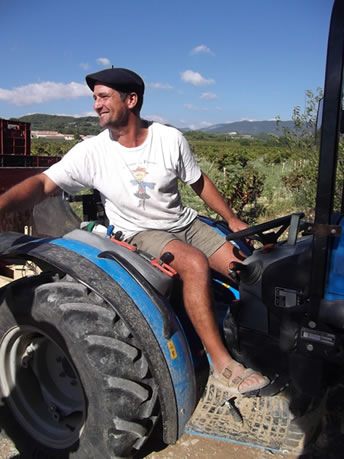 Cédric, one of our biodynamic winemakers
More and more of France's greatest and most famous estates are farming organically, even biodynamically - think Domaines Leroy and Romanée-Conti in Burgundy, Zind-Humbrecht in Alsace, Pontet-Canet in Bordeaux, Beaucastel here in the Rhône.
This day tour (available both in the southern and the northern Rhône) visits three exciting estates which farm naturally in an effort to make the best possible wine and mixes famous regions and new discoveries. After all, just because you're green, doesn't mean you don't like Châteauneuf-du-Pape.
Accommodation suggestion - As the tour can cover all parts of the Rhône valley, the range of accommodation available is enormous. Go to the Travel & Accommodation page for just a few ideas.
Tour 4: Hidden Gems of the Rhône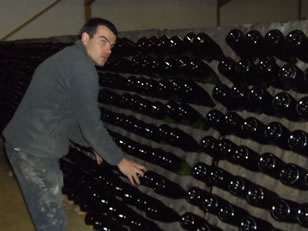 Frederic Raspail turning his Clairette by hand
This tour is all about discovering those harder to find wines from the central Rhône valley that you rarely see outside the region, wines of excellent quality that have character and individuality but lack the marketing clout of Côtes-du-Rhône or the cachet of Côte-Rôtie.
We start in the foothills of the mountains, spectacular scenery that's the home of Clairette de Die. The Brut version is a superior, "champagne-method" sparkler, and delicious it is too. But it's the "Tradition" which makes the wines' reputation locally. The latter is a naturally light wine (typically 7 or 8 degrees alcohol) with a soft sparkle and gorgeous elderflower aromas that marry perfectly with its grapey sweetness.
Next up, the once-famous wines of St Péray. Unusually for the Rhône, St Péray is a white-wine-only village where winemakers grow the local marsanne and roussanne grapes to produce full, flavoursome wines with a distinct richness. Red wine lovers shouldn't worry, however. Most growers also have vines in the neighbouring red-wine-only village of Cornas, so they always have a bit of both colours on hand.
Finally, if we're to believe many wine books, the vineyards of Brézème don't even exist. And 30 years ago, they were essentially correct. But this tiny wine region, part of a polyculture of fruit orchards and arable farming, is undergoing a sudden and dramatic regeneration (listings at Michelin-starred restaurants, great reviews from the wine critics included) thanks to half a dozen or so winemakers whose wines are the last gasp of the syrah-based reds and viognier/marsanne-inspired whites of the north. And small is, in this case, definitely beautiful: Etienne Guigal, the founder of the famous winemaking dynasty, once said that if he had not been able to make wine in his home vineyards of Côte-Rôtie his choice would have been to make wine here.
Accommodation suggestions - If you want to discover theses "Hidden Gems" for yourself, your best options are the towns of Valence and Montélimar and in the countryside of the beautiful Drôme valley. Check out the Travel & Accommodation page for suggestions.
Tour 5: The Great Wines of the North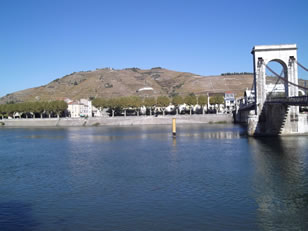 The vine-covered hill at Tain l'Hermitage
Starting near Vienne, just south of Lyon, and finishing 70km down river at Valence, we have a roll-call of some of France's most famous wines – Côte-Rôtie, Condrieu, Hermitage and Crozes-Hermitage, St Joseph and Cornas.
The only red grape here is syrah, but depending on the winemaker and the exact location wines can range from the soft, up-front, red fruit flavous of Crozes to the rugged, dark fruit, animal chewiness of Cornas. It's a fascinating demonstration of what a single grape can achieve.
The whites include the ultimate viognier, Condrieu, the name of both the wine and the village that is the home of the grape, and the marsanne and/or roussanne wines of (Crozes-)Hermitage and St Joseph. These are whites with power and richness, whites made for food, wines that are complex and intriguing.
It's impossible for a single small winemaker to cover all the bases in a series of vineyards some 40+ miles long, but across three estates in three different wine regions we'll do what we can to taste as many of the classics as possible.
Accommodation suggestion - Most people doing the "Great Wines of the North" tour stay in Lyon, but there are plenty of other options. Go to the Travel & Accommodation page for more ideas.
Tour 6: Best of Both Worlds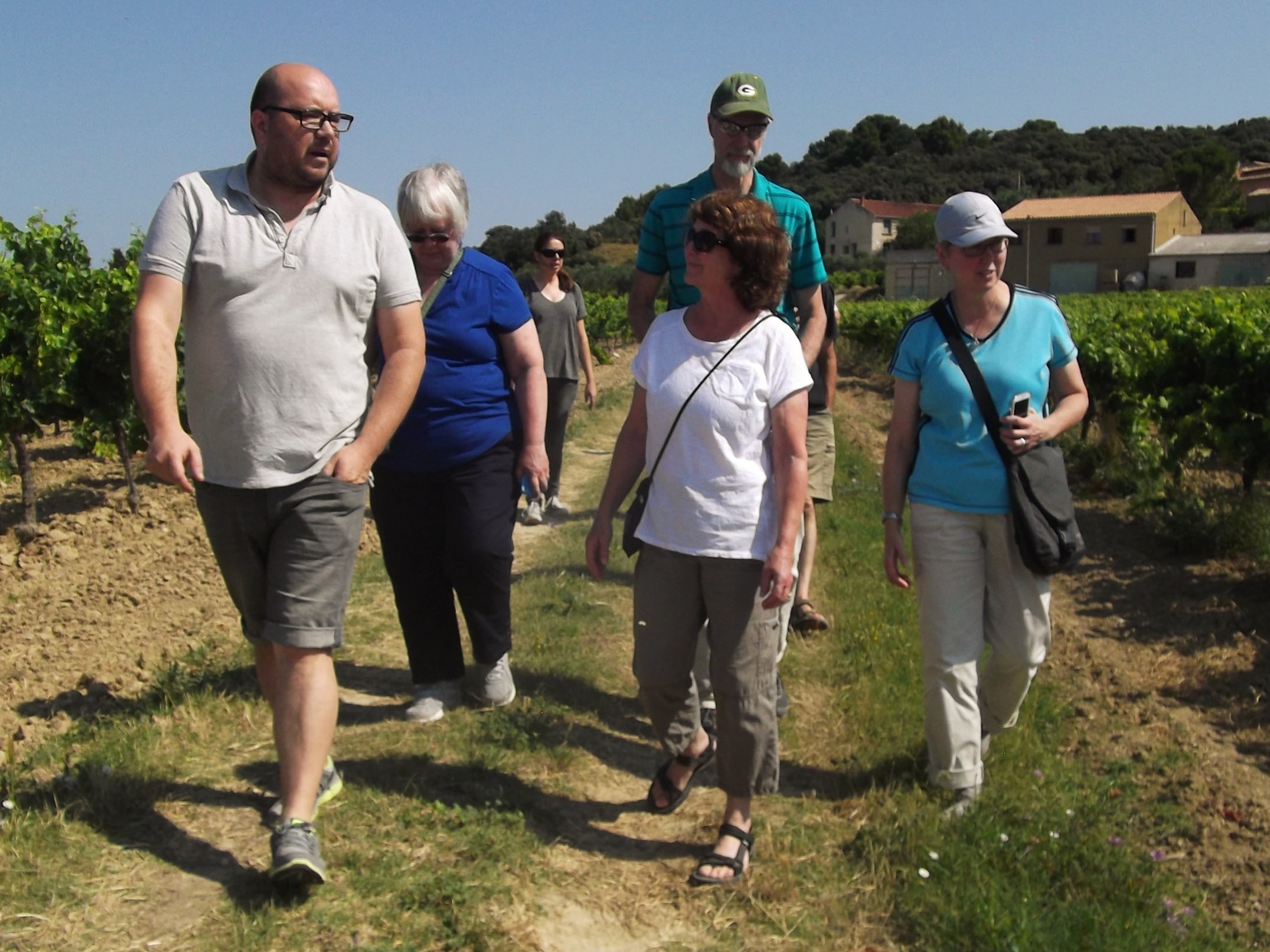 In the vineyards with a winemaker (Wilfried Pouzoulas, left)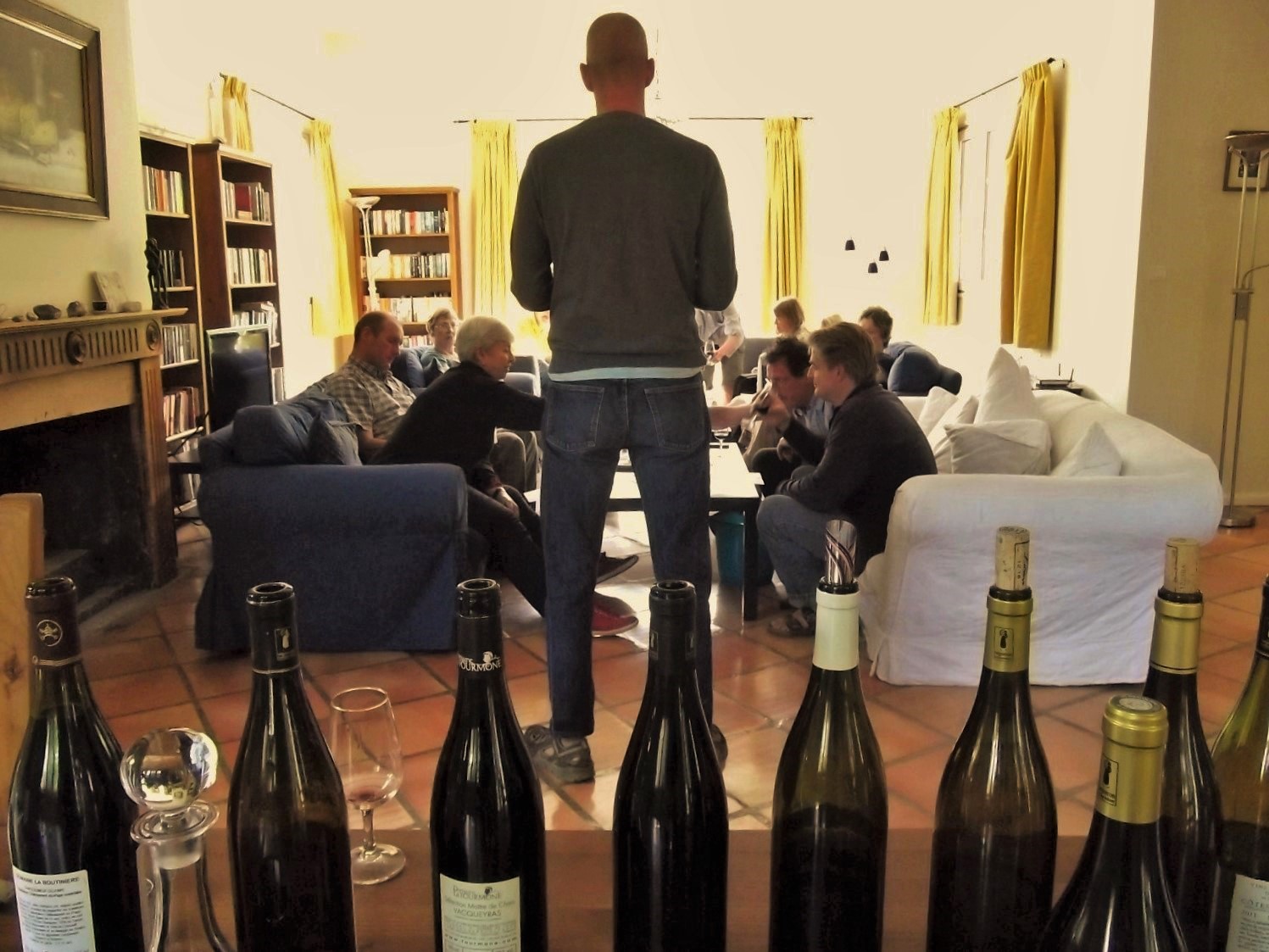 We come to you with some of the best wines of the Rhône Valley
We'd love to be able to take you to Châteauneuf-du-Pape and Côte-Rôtie on the same day, we really would, but the distance makes it impossible. So we scratched our heads and tried to come up with ways to make the impossible possible, a way by which you could taste the whole Rhône in one sitting. Our first idea was our "at home" tastings, where we come to your holiday home with some of the Rhône's finest wines, artisan cheeses, charcuterie and bread, not to mention glasses, tasting sheets, you name it (follow this link for more details).
The tastings have proved to be gratifyingly popular, but understandably some people miss visiting a winery. So then we thought, well why not combine the two?
So here's the deal. If you really want to cover the Rhône in one day and you can't bear to miss out on a winery visit, we'll collect you from your accommodation for a trip to a top estate and then afterwards you'll get to taste some of the other great wines of the Valley. (You'll even get to keep the opened bottles - no half measures here!)
Staying in the Avignon area? Why not combine a visit to Châteauneuf-du-Pape or Gigondas with a tasting at your place of some of the northern Rhône's most famous wines - Hermitage, Côte-Rôtie, Condrieu and more. And if you happen to be staying nearer Valence or Montélimar, you could taste with a winemaker in Cornas or Crozes-Hermitage before coming back to a selection of the south's top "cru". Hey presto, problem solved!
Prices for groups of two to four people start at 300€, so from as little as 75€ per head. Larger groups are also possible, but unfortunately we can't cater for groups staying in Lyon.
5 Nights, All-Inclusive Wine Holiday - May 2022 SOLD OUT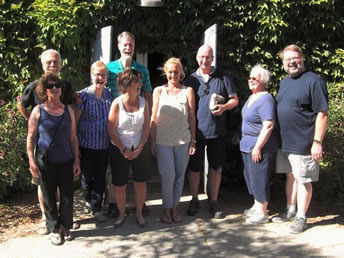 Satisfied guests with winemaker Coralie Goumarre (centre)
Each year Rhône Wine Tours teams up with Rustic Trails to offer a fantastic five night wine holiday. Guests stay at the charming "La Maison Rose" where gourmet four course French meals are served each evening. The house is in the pretty village of Saillans, situated at the foot of the Trois Becs mountain, in the beautiful Drôme valley. There is a large garden and an open air pool.
We arrive in plenty of time for dinner on day one and then spend the next four days touring the whole of the Rhône wine region, which spans from Avignon in the south almost as far as Lyon in the north, visiting all the main wine regions and tasting around 70 different wines along the way. The list of producers we meet changes a little each holiday, but typically the appellations covered include Côte-Rôtie, Condrieu, Seyssuel, St. Joseph, Crozes-Hermitage, Hermitage, St. Péray, Cornas, Côtes-du-Rhône, Clairette-de-Die, Cairanne, Rasteau, Gigondas, Vacqueyras, Beaumes-de-Venise, Lirac, Tavel, Vinsobres, Côteaux des Baronnies and, of course, Châteauneuf-du-Pape. Phew!
But this isn't just a series of tastings - we visit the cellars, go into the vineyards and we meet the people who actually make the delicious wines we taste along the way (and which we enjoy in the evening with dinner!). To enjoy that level of access the group has to be kept small - a maximum of just eight people - so don't delay is all we can say.
The holiday starts on Monday May 2nd 2022 and includes five nights accommodation; four days of touring and winery visits; transfers to and from Saillans (from either Lyon airport or Valence TGV train station); breakfast and four course dinner at La Maison Rose (and, of course, accompanying fine wines); as well as a copious picnic lunch, or a bistro meal on the off chance that it happens to rain. Essentially, the idea is that once you arrive you don't have to spend a cent unless you want to - a bottle or two of something special to take home, perhaps?
If you would be interested in finding out more about the 2022 wine holidays, just e-mail info@rhonewinetours.com.
Bespoke Tours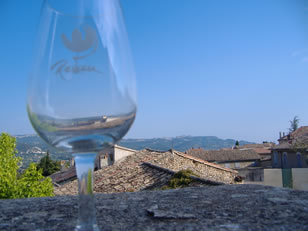 Wine Fête day in Rasteau
We like to think that our six tours offer something for every wine lover, but if you have any particular ideas in mind please let us know and we'll do all we can to help you.
Our regular tours are for private groups of up to 4 people, but we're very happy to help those wanting to arrange tours for larger or corporate groups.
The Practicalities
The tours last a whole day, typically 9.30am-6pm, but exact timings depend upon who we meet and where you are staying. Tours starting in Lyon usually start a little earlier and finish a bit later. The day includes visits to three different wine estates with a stop for lunch (not included in the price).
You will be picked up from wherever you are staying and dropped off again when the tour is finished.
Because the journey time between Lyon and Avignon is around 2½ hours we recommend that anyone staying in Lyon does Tour 5 and similarly anyone staying in or around Avignon would do better choosing tours 1-3. Tours 4 and 5 are ideal if you are staying near Valence or Montélimar.
If you are staying outside the main Rhône wine region we will try our best to help, but it may be necessary for you to travel to a rendezvous point.
Prices
Our regular tours are for up to four people and are priced as follows (note: the price quoted relates to the group as a whole not per person).
| | | | |
| --- | --- | --- | --- |
| | 1 or 2 people | 3 people | 4 people |
| Tours 1-4 | 360€ | 450€ | 520€ |
| Tour 5 | 500€ | 600€ | 680€ |
Prices for bespoke tours, including tours for larger groups and corporate clients, are available upon request. Please contact us at info@rhonewinetours.com for further details.
There may be a supplement if you are staying outside the main vineyard area.
To find out how to book a tour or tasting, go to the Booking page.